Omaha Plumbing Services
Expert Plumbing Repairs & Installations
Your plumbing system is one of the most used systems in your home and even with proper maintenance, parts can wear out and fail. When that happens, you need an experienced plumber in Omaha you can count on. At American Rooter Plumbing, our Omaha plumbing company has over 20 years of experience, and we have the knowledge needed to get the job done right. In addition to having completed thousands of jobs, we have the diversity, knowledge, and equipment to handle any plumbing-related job.
Call American Rooter Plumbing at (402) 298-5414 for plumbing services in Omaha!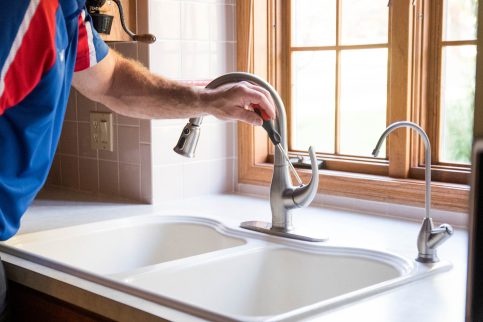 Fast, Friendly & Affordable Service
American Rooter Plumbing was founded with one mission: To offer the highest quality plumbing services in Omaha at a competitive rate. We know that plumbing systems can go down without warning, and we will ensure that you understand your different repair options so that you can make the decision that is right for you and your budget. We even have financing options available!
Our plumbing company offers a variety of plumbing services, including:
No job is too big or too small. Call our fully licensed, bonded, and insured master plumber in Omaha to find out how we can help you today.
Have a Plumbing Problem? Call Our Expert Plumbers Now!
Our Omaha plumbing company is committed to bringing you the best in plumbing service and repair. We also know that plumbing problems aren't isolated to the conventional work week, and so we offer Saturday appointments at no additional cost. A locally owned and operated business, American Rooter Plumbing is committed to helping people solve their plumbing problems and when you hire us, you will get the personalized service you are looking for.
Call today or contact us online to schedule a plumbing repair or installation service in Omaha!